At the moment, the tomatoes are going gangbusters and I'm having lots of fun picking them and munching on them as they're just picked. Our tomatoes are cherry tomatoes, and today I picked some more, and there are still around ten on the tomato bushes I could have picked to bring inside.
Tomatoes are loaded with healthy things, and these home grown organic toms are flavour packed little yummy balls! They have vitamin C, vitamin A, fibre and other things, check it out here. And the most important thing about them is they are useful for a million different cookery options. Tomatoes can be tiny, like the cherry sized ones I have growing at home, or they can be enormous, big enough to over a big steak, and every size in between the two.
Whether you want a quick snack, an addition to a home made pizza, or a flavoursome boost to a casserole (or many other cookery options), think of a tomato or two (or many, many more) to add flavour, liquid and good nutritional extras to any meal! (Maybe not breakfast cereal … Haha!) The tomatoes at our place are growing within a construction that gives support to the plants, so that they grow upward toward the sun, and don't lie down on the soil in the vegetable bed. If I think of it, I will add a photo of the tomato plants tomorrow, but in the short time, here is a pic of the tomatoes I have picked over the last few days.
These aren't quite ripe enough to be at their peak yet. I'll probably be able to have one or two tomorrow though.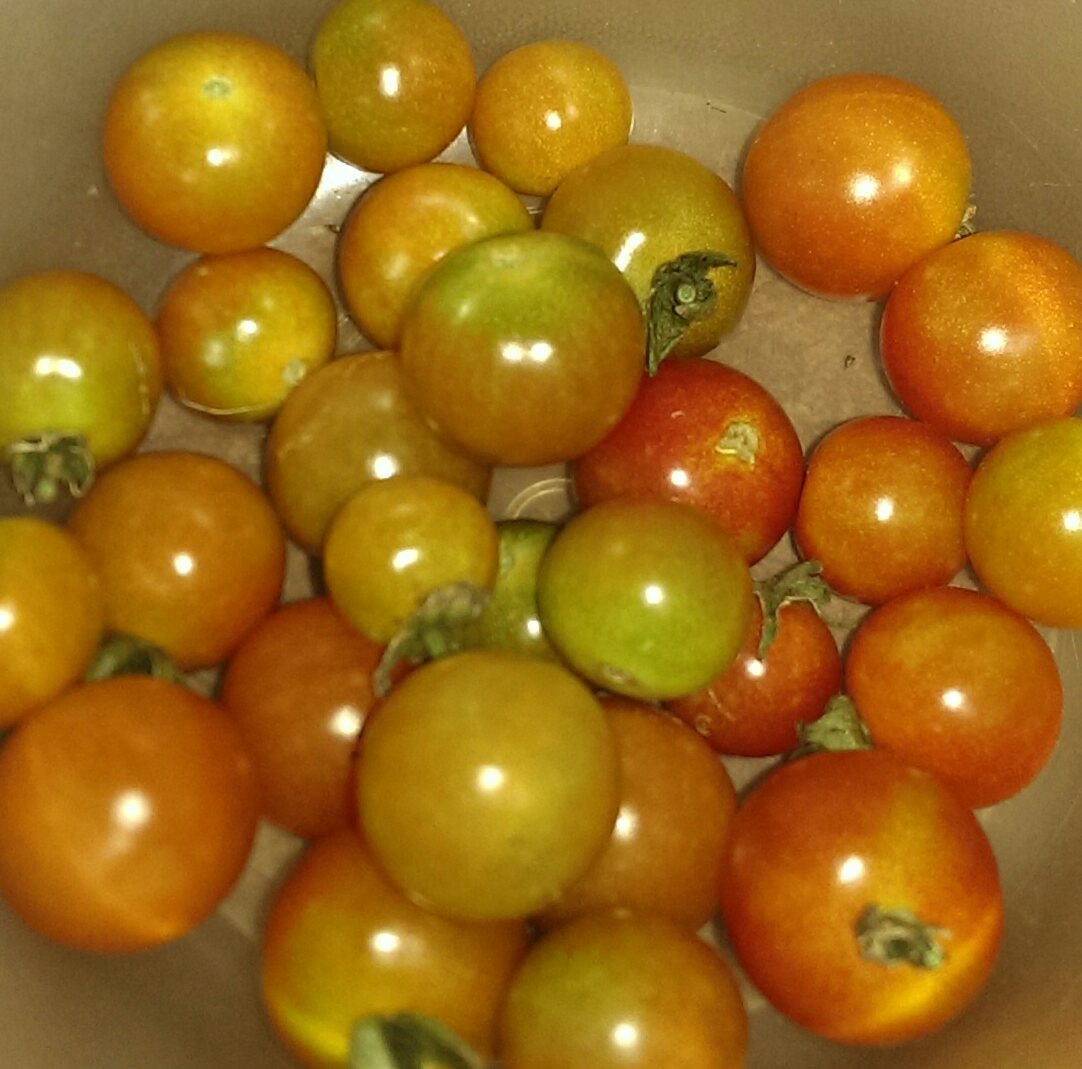 These tomatoes just keep on giving, and I love them for it. I'm also glad the dogs don't seem to want to eat them, which is great, because they are certainly within the reach of the hounds. I think the dogs (the Pharaoh Hounds anyway), are keener to hunt down the moths that come out at night, than hunt for tomatoes that just stick to the bush and don't try to fly or run away!
If you have tomatoes and have any stories about your own, I'd love to hear about it, leave a message here!